If you have a promo code, you can use it to get a discount on your order during the checkout process. Here's a step-by-step guide to help you apply your promo code:
Step 1: Start the checkout process
Once you have added all the items you want to purchase to your shopping bag, click on the shopping bag icon to begin the checkout process.
Step 2: Make sure your order is correct
Once you've checked that your order is correct simply click on the "Go to Checkout" button.
Step 3: Locate the Promo Code field
On the checkout page, you will see a field that says 'Discount Code'. This is where you will enter your promo code.
Step 4: Enter the Promo Code
Enter the promo code exactly as it appears. Keep in mind that promo codes are case-sensitive and may include special characters.
Step 5: Apply the promo code
After you have entered the promo code, click on the 'APPLY' button. The discount will be applied to your order.
Step 6: Double-check the discount
Make sure the discount has been applied to your order before proceeding to the next step.
Step 7: Return to the shopping bag (if necessary) If you missed the promo code field during checkout, click on the shopping bag icon to return to your shopping bag where you can enter your promo code.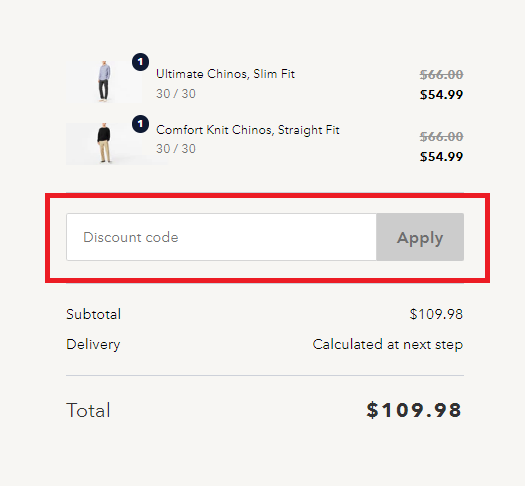 Note: Keep in mind that you can only use one promo code at a time. If you have an automatic discount applied to your cart, you may not be able to stack another promotion.
Make sure the promo code has been applied before submitting your order. After you have applied the promo code, make sure it has been properly applied to your order before submitting it. Once your order has been submitted, you won't be able to apply the promo code again.